May's Train is called: The Four Elements.
Blog Train sign ups are open. Email me with
MAY BLOG TRAIN
in the header if you would like to join.
jessicawoods1@yahoo.com
This train will be a anything goes train, Personal Use, Commercial Use, Taggers Sized, Full Sized, 1 Item, Several Items, Kits are all welcome.
Previews due: Wednesday, April 28th, 2010.
Blog Train Kick Off: Saturday, May 1st, 2010.
This train
does NOT
have to be Gothic, pagan or wiccan...but if you want to go that route your welcome too.
You can make it yours in any way fit as long as the color palettes are followed and it has something do with the four elements: Fire, Water, Earth & Air. :) So really the possibilities are endless, you could make it beachy, vacation, Spring, cute, Fun, as the colors are versatile!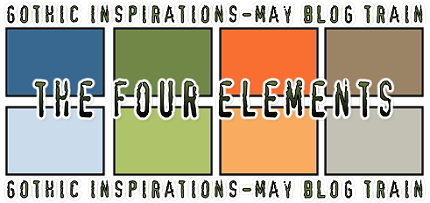 The Four Elements- Fire, Water, Air, Earth
These elements are basic building blocks in any ritual ceremony. For each and every New Moon, Full Moon, 8 of the Turning of the Wheel of the Year Ceremonies, Dream Work or for any personal ceremony or ritual, the 4 Elements must be called in as watchers, Guardians,and holders for the Ritual. All ancient traditions call upon the 4 elements. See more here:
http://taratarotweb.tripod.com/id21.html