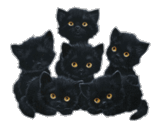 All Hallows Eve...

Once a year as it happens, on Halloween Night,
The monsters gather together, for their annual delight,
They'll be rocking along to some spooky sounds,
Even the old timers will be Mashin' around the grounds.
It's ghastly good time, for the ghoulish crowd,
And this year your invited to get crazy and loud.
But don't forget your tickets, else we'll be notifying your next of kin,
For it's held in the cemetary, and people are just dying to get in!

Thank you Dianna!!